Streaming and Broadcasting Studio for virtual conferences
Stream virtual conferences and conventions to multiple destinations
Simulcasting – simultaneous streaming to various destinations and platforms enables all your live video channels at the same time.
This gives you the freedom to stream to every one of your popular platforms at the same time.  No need to compromise on streaming destinations. Just go where your audience is. 
Stream virtual conferences via social media, and embed them on your corporate site or any other platform, where your audience is watching. mimoLive can help you to connect to your viewers, who are all scattered on various platforms. 
mimoLive makes it easy to cross-promote your stream on Facebook, YouTube, and any custom RTMP service you want to stream to. 
mimoLive is the software tool for creating professional live videos and livestreams.
Simulcast streaming destinations
How to run and stream virtual conferences?
A stream from the Boinx Software CEO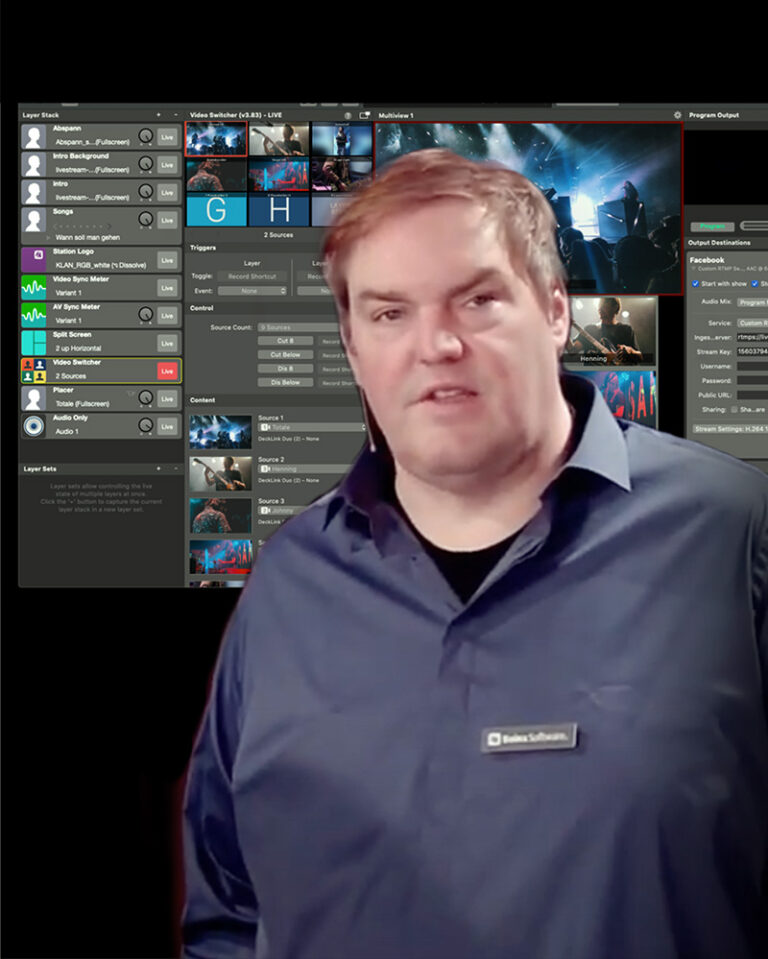 Oliver Breidenbach, the CEO of Boinx Software, periodically broadcast live video streams. He experiences firsthand what it means to run rich and comprehensive live shows. He uses this fieldwork to push mimoLive to the limits and beyond. 
This video gives you a behind-the-scenes tour of a nine-hour long virtual conference, held in mid-2020 by the German Speaker Association.
Equipment list of this live production:
Apple iMac Pro 10 Core, 3 GHz, 64GB RAM, Radeon Pro Vega 64
mimoLive™
Vimeo Pro
Apple iPad as Remote Control for mimoLive
Blackmagic Design DeckLink Duo 2 SDI card (8 SDI in/out)
Sonnet Echo Express SE1 TB3 PCIe Expansion Box

PTZ Camera: Lumens VC-A50PN NDI Camera 

5x SDI Camera

Magewell Pro Convert
Focusrite Scarlett 18i8 Audio Interface
Blackmagic Ultrastudio 4K mini
Teleprompter confidence monitor
Ubiquiti Networks 8-Port UniFi Switch
How to use virtual camera for zoom meetings and other video meetings
In this video, you learn how to use the virtual camera feature of mimoLive. You can use mimoLive to add logos, watermarks, lower thirds, screen sharing or change the background for zoom meetings.
The virtual camera feature allows mimoLive output to behave as a webcam that is connected virtually to your Mac. You can send your edited live video from mimoLive to other applications and conferencing systems which normally take your webcam as a video input. 
To learn more about mimoLive and Microsoft Team, please read this article. 
To learn how to record Skype® Calls, please continue here.