mimoLive™ has a great new feature to record podcast with your friends all over the world.
mimoCall™ – integrated Video call
mimoLive™ records you and each of your guests separately, so you can edit in Garageband, Logic, Audacity or whatever other multitrack editing software to your heart's content.
Just send your podcast guests a URL which they can open in their browser and they are connected immediately to your recording studio.
Or, if speed of production is more important to you than a perfect edit, mimoLive also records the live down mix and you can add intro, outro and other audio to round out the production in real time.
---
"This is so slick. I've been waiting for 15 years for a tool like this."
– Derrick Story, The Digital Story & The Nimble Photographer podcasts
Advantages for Audio Podcast:
High Audio Quality
Record audio in uncompressed PCM quality or AAC
No Accounts, no downloads
Separate Audio Tracks for editing in Garageband, Logic, Audacity or other
Optionally produce "live" to reduce production time, adding intro, outro, stingers, prerecorded material and more during recording
Invite your audience for live participation via live video stream
Get Started Now
To get you started, mimoLive comes with a free "Audio Podcast" template for you and up to 3 guests which is easy to configure and modify to your requirements.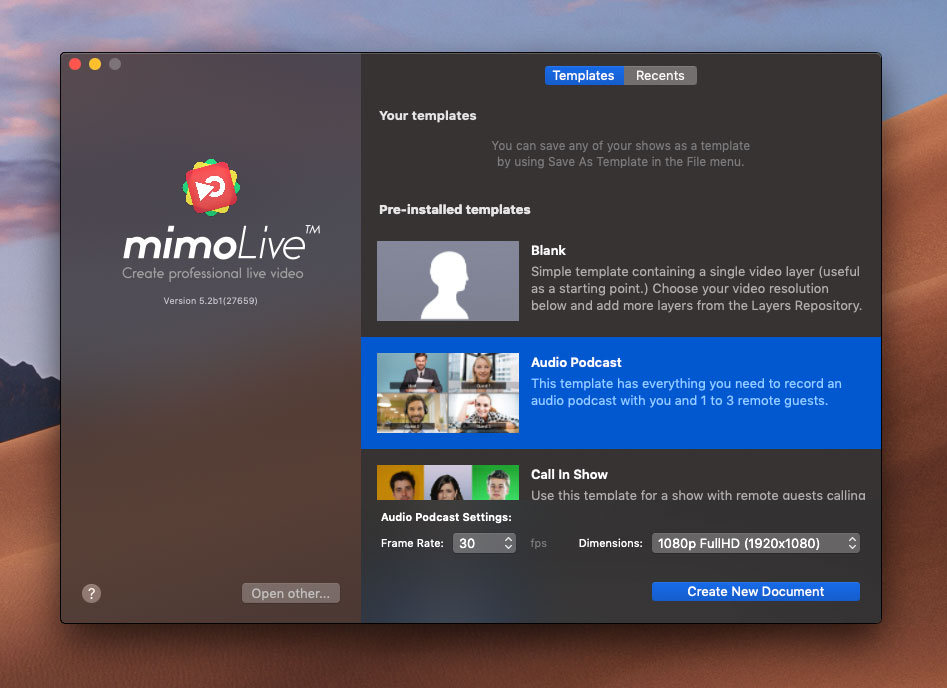 But mimoLive can also go way beyond the audio recording. For example, you can have your fans watch the live production via a live video stream and participate via comments and polls.