We recently did a Sports Live Broadcasting because it's always fun for us to take mimoLive™ for a spin. It's very satisfying to use all the great features that we worked hard to develop and to see the vision of how all of it should work coming to life. It's also a tremendous learning opportunity and a chance to iron out kinks in the vision before mimoLive users are experiencing it.
This time we tried our hands again at Sports Live Broadcasting, adding a new sport: Handball. We offered to stream the top match of the leader in Austria's second handball league, the Sportunion Leoben, against the team placed second. Due to Covid 19, they couldn't have fans in the arena and jumped on the offer. For the first time ever, we were going to live stream a match of two professional sports teams!
You can watch the replay of the stream on YouTube.
mimoLive and Sports Graphics (Addon) for Sports Live Broadcasting
With mimoLive and the Sports Graphics Addon, we have everything needed for live producing and broadcasting the match to YouTube and Facebook: The video switcher, graphics generator and streaming encoder integrated into one software.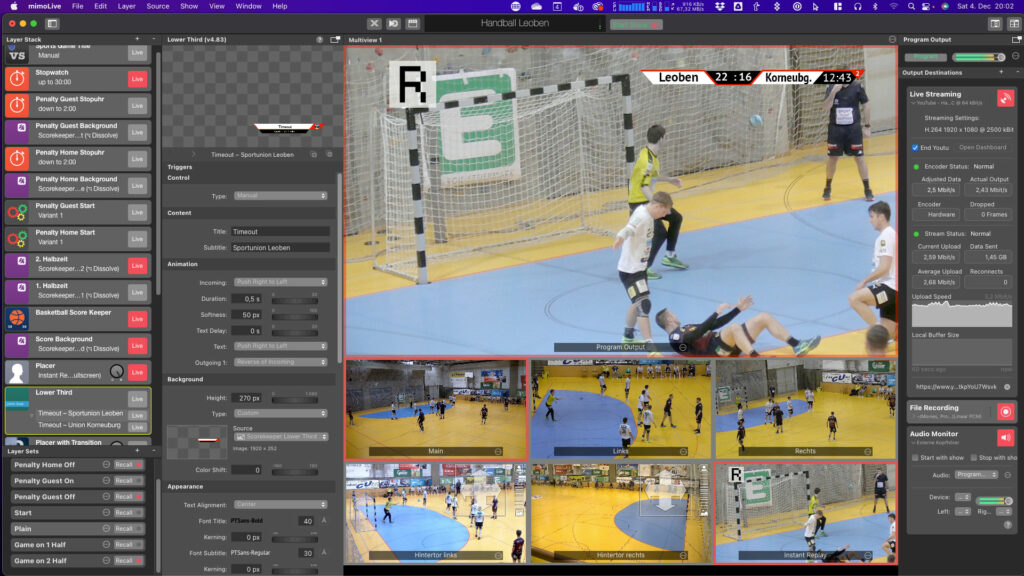 The Sports Graphics Addon is a powerful system that allows you to store information about team members, including their pictures, in a special source, which then powers all manner of graphics, like displaying a roster in table format or as a graphical animation. Learn more about the Sports Graphics Addon here.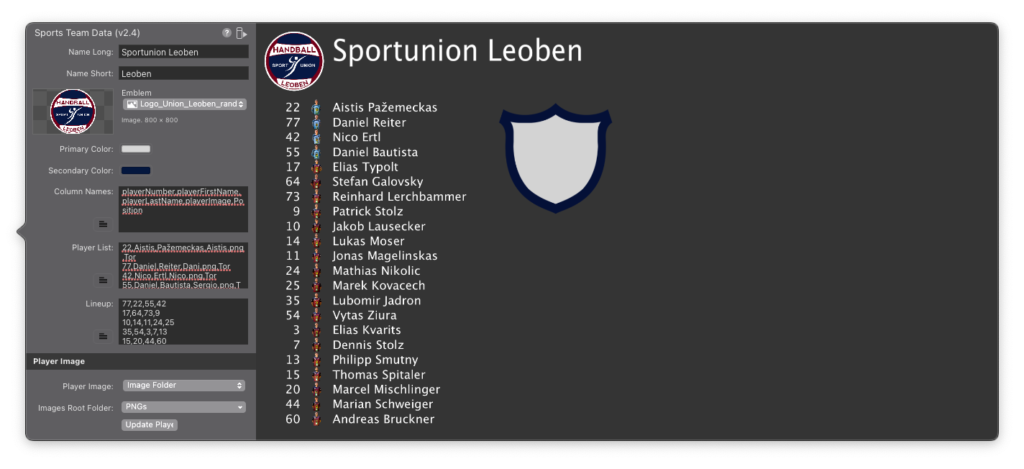 The images of the players are kept as separate files in a folder on the local SSD drive. The file name is entered in the Sports Team Data source so it can easily find and associate the files with the listed players.
For this event, we added a new Layer to show all players of both teams using their profile pictures:
Scoring
Combining a couple of Logo layers with various PNG files, a Stopwatch Layer and the Score Keeper tied together with Layer Sets and Automation Layers, we built a scoreboard that showed:
Time elapsed and period
Score
2 minute penalties
Names of the teams
We used a Lower Third Layer to advertise which team was taking a time out.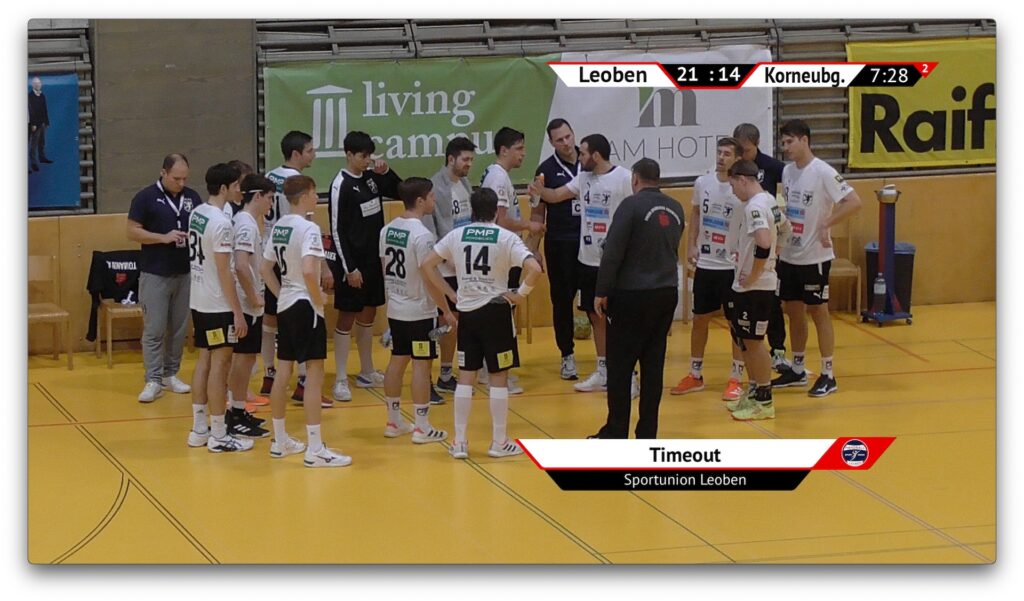 The Remote Control Surface feature of mimoLive allowed us to have a separate team member keep track of scoring on their laptop.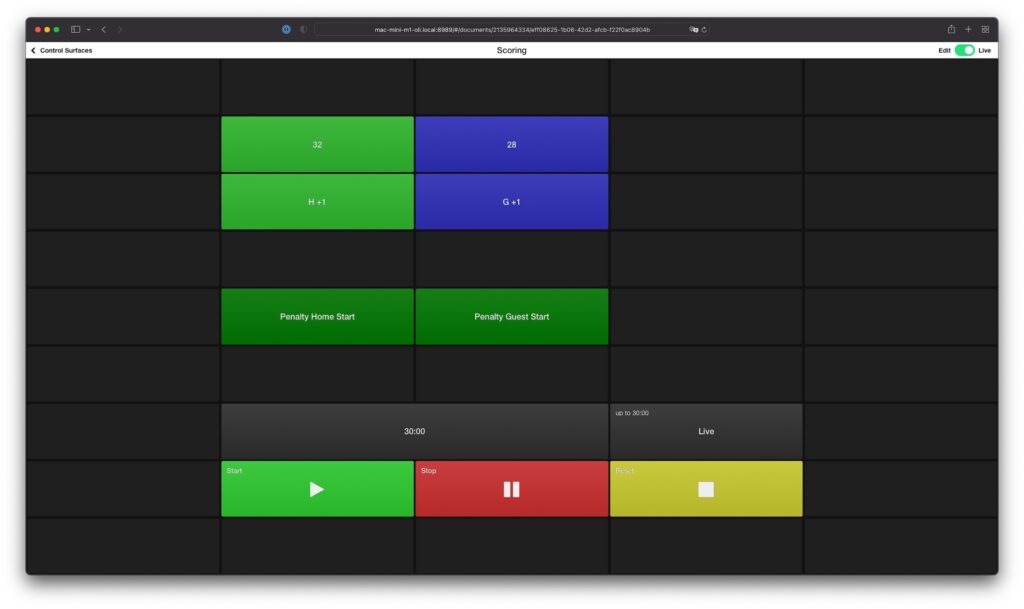 Instant replay
Exploiting the unique feature of NDI® to be able to access a source from multiple different computers, we set up a separate Mac to handle Instant Replay. The Sports Graphics package includes an Instant Replay layer that can capture up to 5 seconds of video from a video source leading up to an event and replay it same speed or in slow motion.
Since all the video frames are stored on the graphics card, the iMac we used was able to handle only 2 cameras. Nevertheless, it provided a great effect for the live stream.
The Instant Replay Mac sent its video to the mimoLive Streaming Box via NDI. The instant replay was also managed through a Remote Control Surface which we operated using an Xkeys keyboard.
The best hardware for semi-professional Sports Live Broadcasting
Of course, the newly revised mimoLive Pro Live Broadcasting Box™ with the M1 Mac Mini running macOS Monterey is at the core of the setup for Sports Live Broadcasting.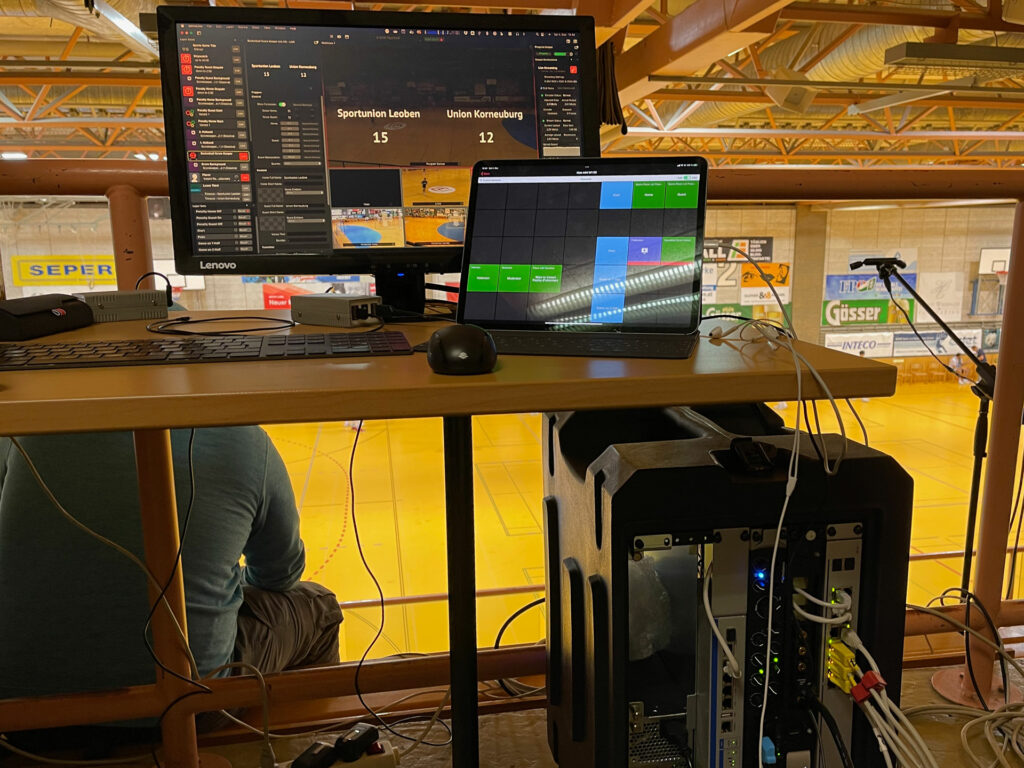 The mimoLive Pro Live Streaming Box comes in a portable 19-inch case and can be configured to have:
Up to 8 HDMI and/or SDI inputs
SDI inputs can also be used as outputs
PoE switch for NDI
LTE Router for venue-independent internet connectivity
Thunderbolt Audio Interface
M1 Mac Mini for live editing and streaming with mimoLive™
On the mimoLive manual site, you can find a DIY parts list for the mimoLive Pro Live Broadcasting Box.
HDMI Cameras with HDMI to NDI® converters
If you're offering professional live production services, I recommend you to only use cameras of the same type because that makes it much easier to color match them. But as we are using our test equipment, we have a diverse assortment of cameras and devices that we used.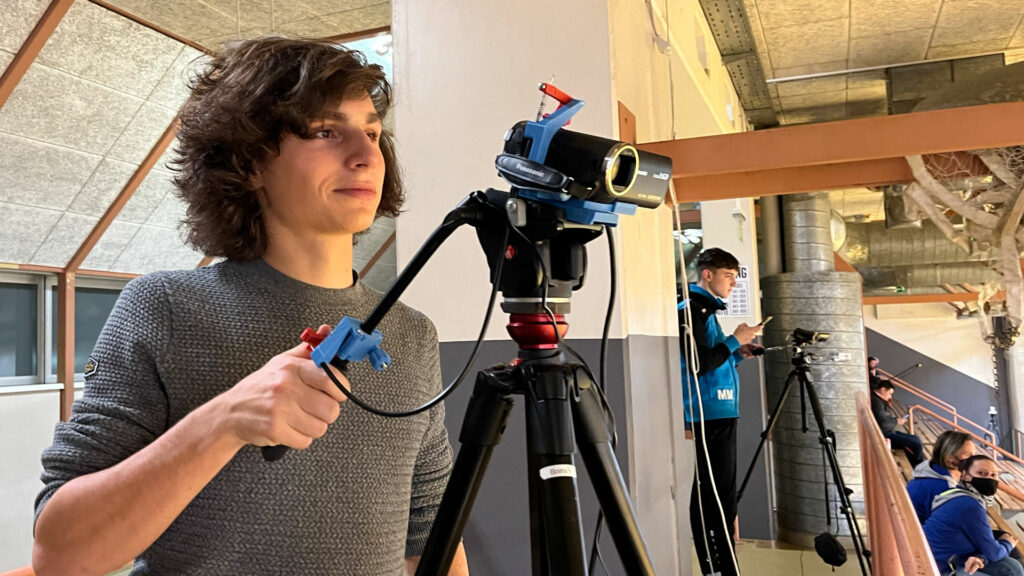 In this project, the three main cameras were HDMI camcorders that we connected to the workflow using these HDMI to NDI® converters:
We also used two PTZ video cameras at the baseline to capture penalties and goal attempts:
Using an all-NDI® workflow greatly reduces setup time and enables us to use long, low-cost CAT6 cables and not have to rely on power outlets being conveniently available at the location of the cameras.
Sound and Commentary
We set up a microphone via XLR cable to capture the ambient audio. A special challenge when streaming sports to YouTube or any other major platform is to avoid copyright strikes that happen because of music being played in the venue during the game, so make sure you can mute the microphone easily.
We also had a commentator who we set up with a Countryman E6 headset microphone in a commentator booth. Together with the sound dampening quality of the booth, the microphone delivered a commentary almost entirely clear of copyright-critical background noise. The Countryman microphone was connected using a digital Sennheiser wireless transmitter with an XLR receiver.
Independent Internet Access
Of course, Internet access proved to be challenging. The network inside the venue was undergoing a redesign and did not provide sufficient bandwidth for streaming and would also be shared with other users. Luckily, there was decent LTE coverage, so the LTE router built into the mimoLive Pro Live Streaming Box was able to save our day.
Small Production Team
With mimoLive, our goal is that a small production team should be able to achieve great results. The mimoLive Pro Live Streaming Box helps you to save time during a tight production schedule. The core components with the NDI® based workflow make for short setup times due to simplified cable management.
For this event, we were able to source some volunteers. At seven people, the team was bigger than usual, but still quite small for this kind of production for Sports Live Broadcasting.
1 mimoLive main operator
3 camera operators
1 score keeper
1 instant replay operator
1 commentator
The volunteer camera operators, scorekeeper and commentator were able to perform their tasks after a short instruction.
Written by Oliver Breidenbach,
CEO of Boinx Software