The Visual Radio layer in mimoLive offers a unique solution for live radio broadcasting by adding a visual component to your audio content. With this layer, you can easily stream your live radio show to your audience with video playback, live video input, and graphics. Whether you are broadcasting from a studio or a remote location, the Visual Radio layer allows you to engage with your listeners in a new and exciting way. In this article, we will explore the features and capabilities of the Visual Radio layer in mimoLive.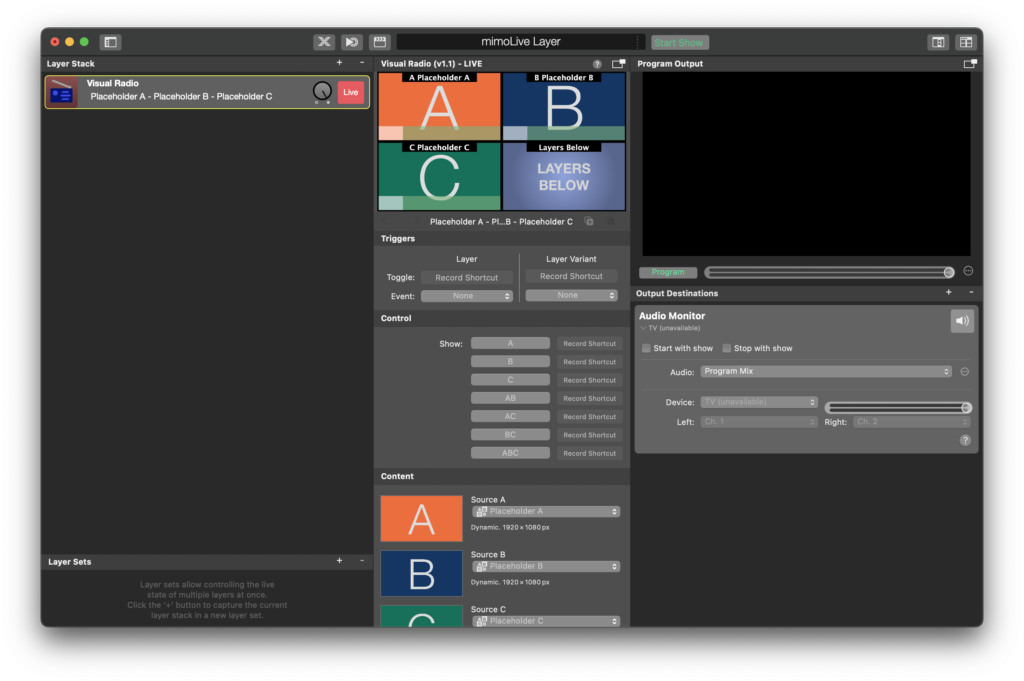 What is Visual Radio?
Visual Radio is a term used by Radio broadcasters to describe a setup where the video is added automatically to a radio show in order to give listeners another medium to tune in. It is most useful when a radio show host has a celebrity guest in the studio so that fans can not only listen but also watch the interview but can also be used for call-ins via video conferencing apps or mimoCall. A setup with multiple cameras can make it visually more interesting but is also more difficult to produce. In times when the radio show host is also the show producer, the task of switching needs to be automated. This is where the Visual Radio layer comes in.
Using audio to automatically switch cameras
To use the Visual Radio layer, you need to set up:
A camera source for each participant/camera angle (up to 3 are supported + one source from below)
A microphone that captures the audio from each participant.
You can then select the camera and associated microphone in the Visual Radio layer and assign a trigger value to the audio.
The Visual Radio layer will listen to the audio and, depending on levels and timing, switch to a layout that shows all the people talking.
The Visual Radio layer supports up to three camera angles or mimoCalls with associated audio and can be set to default to the layers below in case nobody speaks which can be a fourth camera showing an overview of the studio.