Comments is a great way to engage with audience. If your audience posts many comments, the ranking of your live stream goes up. Displaying the comments in your live video and responding to the comments is a great way to encourage them to comment.
You can watch this short tutorial to get an overview on how to work with comments in mimoLive:
How to use the Comments layer in mimoLive
Retrieving comments
mimoLive retrieves comments in two ways:
Add a Social Media Source and point it at a live stream.
If you use mimoLive to stream live to live streaming platform supported by the Social Media Source, an invisible Social Media Source is created to automatically retrieve the comments.
Moderating comments
Comments are delivered into the Comments window. You can open the Comments window and watch the incoming comments by going to the menu "Window" and select "Comments". Once you opened the Comments window you can see all the comments your Social Media sources are retrieving.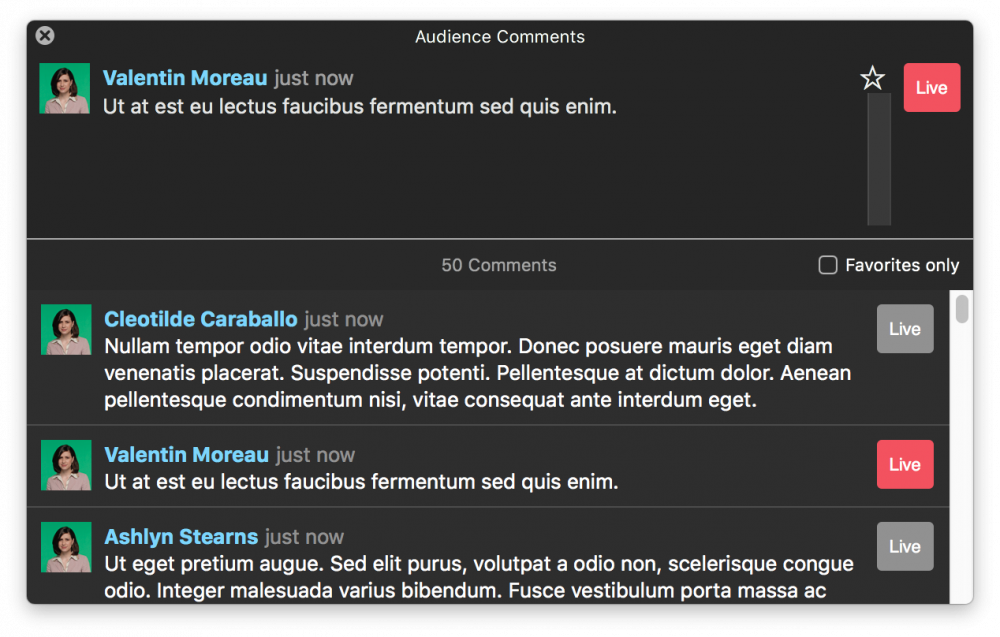 Displaying Comments In Program Out
You can use the following layers to display comments:
Working with Comments
While you are receiving comments from your Social Media sources new comments will appear in the Comments Window at the top of the list. There are two useful workflows:
1. You can display all the comments as a stream by the Comments Layer. Please make sure that it is switch to live.
2. if you want to comment on comments from the audience you will need the Single Comment Layer in your layer stack. This layer will display those comments that you switched live in the Comments window. Once you are done with a certain comment switch it off in the Comments window again. Please make sure that the Single Comment layer is switched to live all the time.
You can mark the comments you want to display later by the little star that will appear if you hover over the comment with your mouse cursor. Once you start your Q&A session in your show you can select the Favorites only option to filter the comments and show the stared once only.