Stream the program live on the Internet
mimoLive lets you live stream to a great number of services that support the RTMP protocol.
Adding a Live Streaming Output Destination
Add a new Live Streaming Output Destination to your Output Destination list by clicking the + button on top of the list in the right most column of your mimoLive document. A popover window will appear with all the Output Destination options available. After double clicking the Live Streaming Output Destination icon a new instance will appear in the Output Destination list.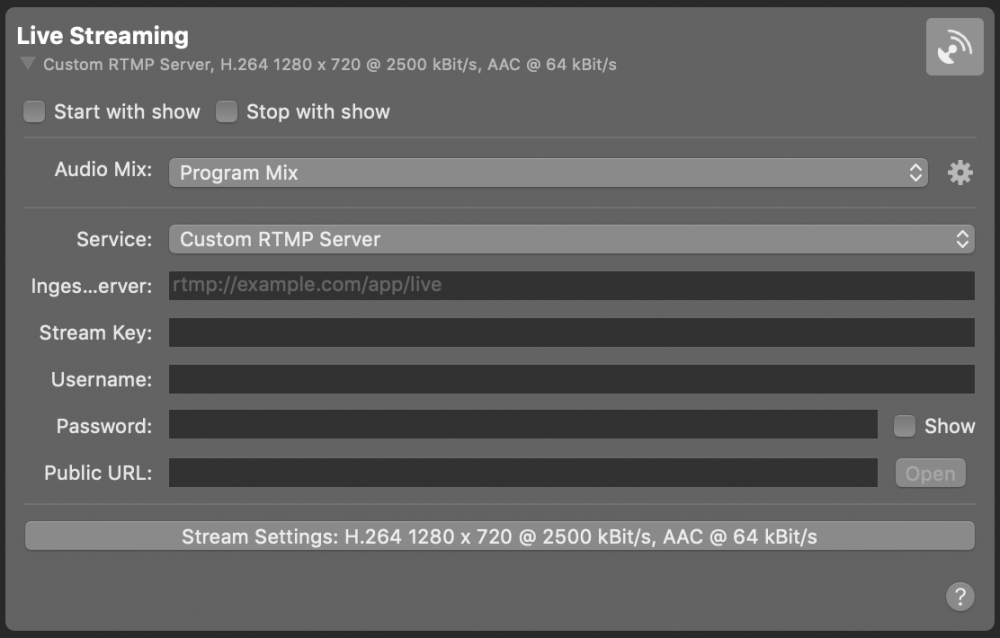 Setting up the Live Streaming Output Destination
The Start with show and Stop with show options control if the Output Destination should start and stop together with the Start/Stop Show Button. Just remember that the Output Destination may always be activated and deactivated manually by clicking its activation button.
In the Video popup you can select wether you want to stream live the Program Output or a specific Video Source from the Sources Repository.
In the Audio drop down menu you can select which audio will be streamed live by the Output Destination.: Either the Program Out Audio Mix, a specific custom Audio Mix or any audio source that has an associated audio source with it. Please refer to Audio Mix Panel to learn more about setting up audio mixes.
The activation button will remain disabled until the streaming service was properly configured.
Setting up a Service
A growing number of live streaming services are directly supported by mimoLive. This means you can use mimoLive as a client of those services by logging in with your respective account credentials. When your account was successfully set up in mimoLive you simply select your service from the Service menu and start streaming.
Setting up
RTMP

Streaming

If you want to stream to a service that is not directly supported, you can still do so if the service supports RTMP ingest. Select Custom RTMP Server from the Service menu and fill in the information that your service provided. Not all information may be needed to successfully stream to a service. Oftentimes the ingest server URL and stream key suffice.
Importing
FMLE

Configuration Files

Some streaming service platforms provide FMLE Configuration Files to avoid the complexities of configuring the stream encoding software. These files are supported by mimoLive.
Simulcasting
mimoLive allows to stream to multiple streaming destinations simultaneously (simulcasting). Simply configure additional Live Streaming Output Destinations. Depending on your Mac, you may be able to stream to up to 6 streaming services at the same time.
Advanced Settings