Input Sources
mimoLive organizes sources like video devices, audio devices, static images, multimedia files, presentations of a project in one place.
Input Sources of any type are listed in the left column of your mimoLive document window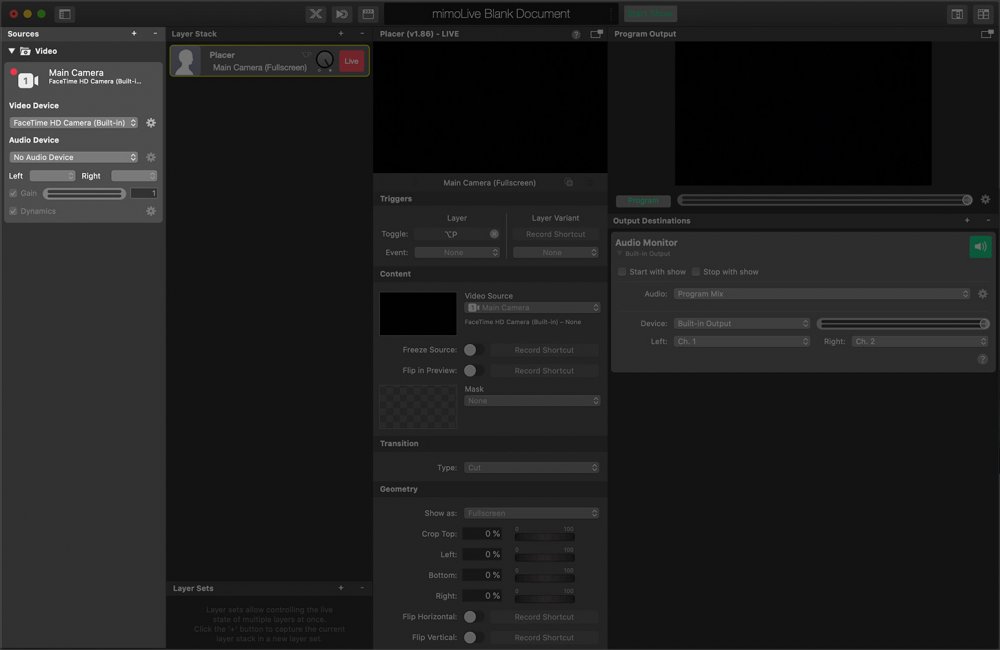 Drag and Drop new media files
If you want to add an image or a movie to your sources repository you can drag and drop the file right from the Finder.
When dragging a media file from your Desktop into the Source Repository you may notice the green "+" next to the mouse cursor. This means that you will copy the file to the mimoLive document bundle.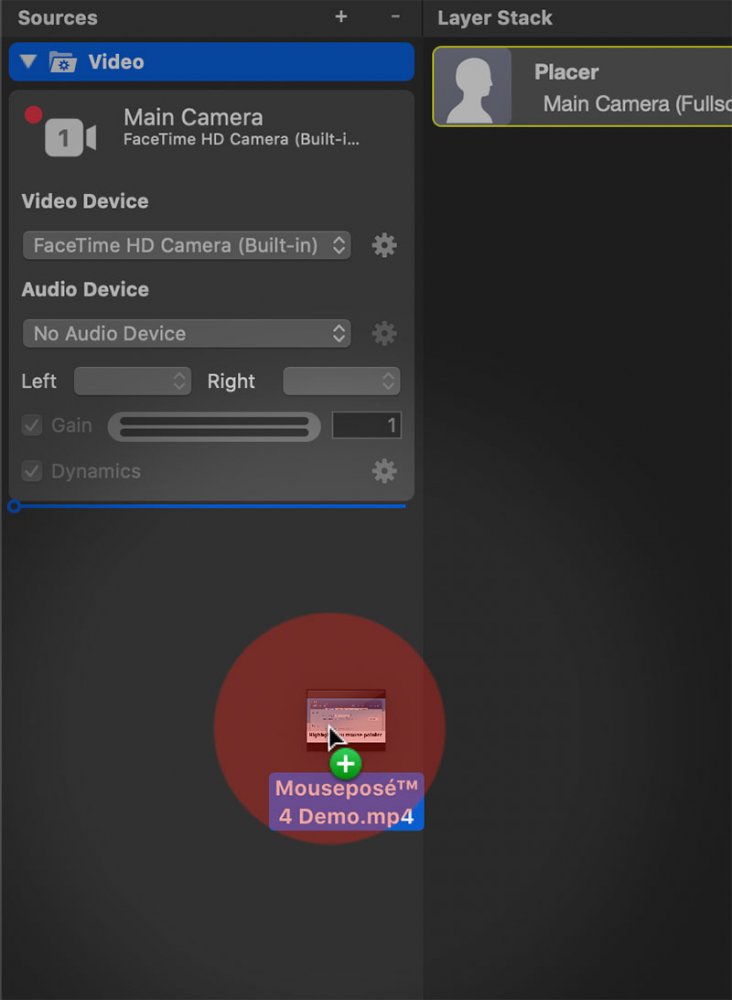 *
By default, all media files are copied into the mimoLive document bundle.
You can hold down the "alt" key ⌥ on the keyboard to switch to "Path Reference" indicated by the "arrow" icon next to the mouse cursor. This will save the absolute path for the file rather than the file itself.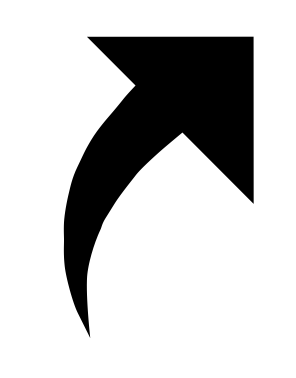 *
Please be aware that mimoLive won't be able to open the file once you moved it in the Finder to a different location!
You are able to switch the storing option later on with the popup in the source settings panel: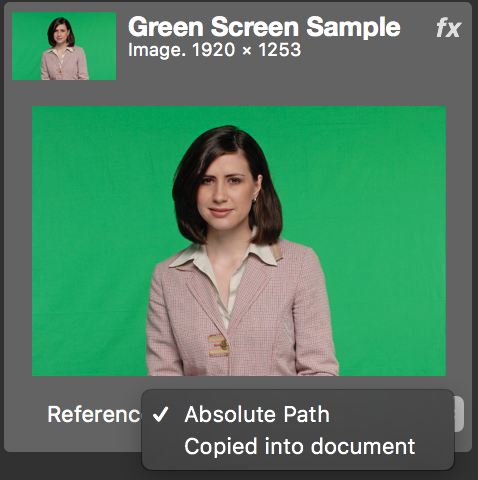 Adding Special Sources To The Source Repository
Besides media files, there are many special sources you can add to mimoLive's Source Repository. Those special sources are described on their own documentation pages but are listed below for you as an overview.
To add a new source to the Sources Repository follow the following procedure:
Click on the "+" button on the top right corner of the Sources Repository. A long list of available source types will appear in a popover window.
Select a source of your choice:
Video Source Type
Description
Video
Combines a video device and an audio device to a single video Source
Blackmagic Design Video
Use Blackmagic Design Hardware as video sources in mimoLive.
NDI® Video Source
Connect to any

NDI

enabled device on the network and use it as a video source in mimoLive.
iOS Device Video
This source let you display the screen of your iOS device connected to your Mac with a cable.
Audio
Configure audio-only source if you need to add audio on a separate path to your video production.
Media Playlist
Playback a list of media files of different types (stills, audio tracks or movies)
mimoCall
Is you need to bring in a guest to your show remotely you can do so with a mimoCall.
Screen Capture
Use this source to capture your Macs desktop screen. Useful if you have two displays so you can use one display for controlling mimoLive and the second one to do screencasts.
Social Media
With the Social Media source you can retrieve data from Social Media services, like Facebook Reactions, YouTube comments and so on.
Web Browser Capture
This source provides a screen capture of a web browser. You can capture entire web pages or portions of it.
Window Capture
If you want to capture a certain window of a Mac app you can use this source.
Motion-

JPEG

Many internet webcams have a built-in motion-

JPEG

-server (including the cameras by

AXIS

). You can grab them with this source.
Placeholder
If you are currently setting up a document but don't have all the hardware around then you can fill in a placeholder with configurable letters.
Syphon Video Receiver
The Syphon Video Receiver source receives video data from other Syphon Video Servers, including mimoLive's built-in Syphon Sender layer. Many 3rd party video apps support this standard.
Text
Need a graphic with a simple text on it quickly but Photoshop is too complicated? The Text source let you create Text on a background fast and easy.
Video Output Test
If you are certain about your video pipeline you can use this video source to check if every pixel is processed correctly throughout your setup.
Sports Team Data
For team games of any kind this data source provides the information of a single team.
To instantiate the new source either click on it or drag it from the list to the Sources Repository. A new source will be added to it.
Configure A Source
Depending on the type of source you are looking at different configuration options are available. But some they do have in common:
Renaming A Source
By default, mimoLive generates a name for a source so that you can easily distinguish between those. However, it may come in handy if you would be able to name the sources you like.

Select the source you want to rename in the Source Repository in the left column. The source background will be highlighted.
Double click on the name of a source at the top of the source info panel. The source name should become editable showing a text entry field.
Rename the source and hit enter to commit your change.
Adding Filters/Effects
Every image-providing source can be manipulated by filters and effects. To learn all about the built-in video filters in mimoLive read Filters.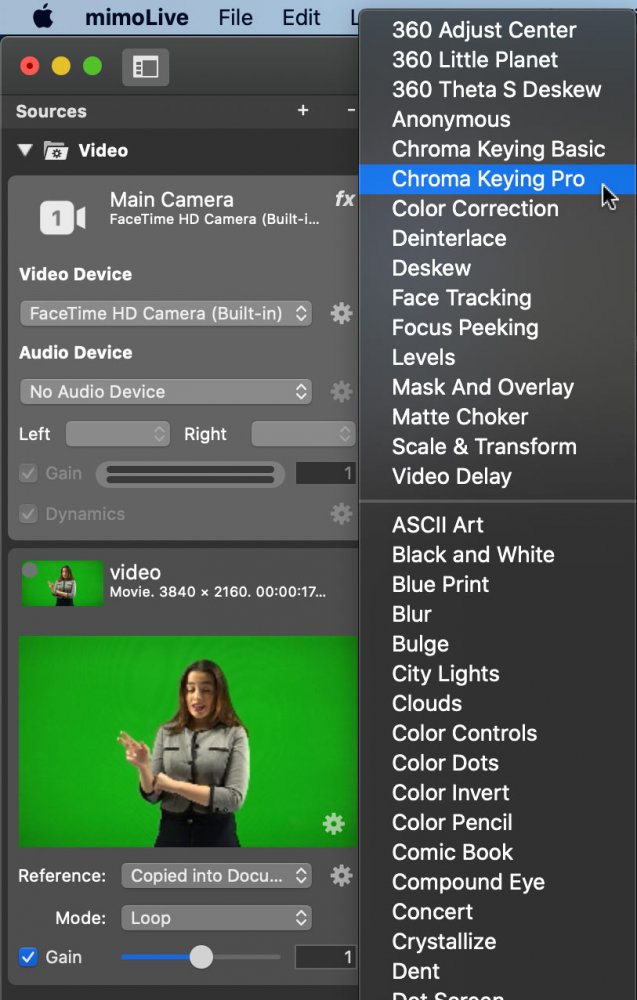 Organising Sources In The Sources Repository In Groups
If you add multiple sources to the Sources Repository it can get crowded quickly. Here is how you can organise your repository:
Rearrange Sources In Groups
By default new sources gets sorted into smart groups like Video, Audio, Media or Data. However, you can drag sources in your Sources Repository around to reorder them or bring them to another group.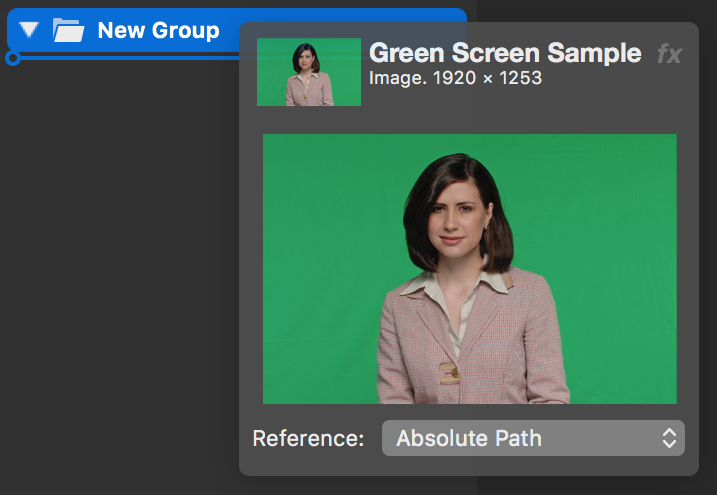 Create A New Source Group:
Select the "+" button above the Sources Repository. This will bring up a collection of all available source types in a popover window:

The top one is Source Group. Drag this item to your Sources Repository and bring it to a position where you want to group some sources.
Rename A Source Group
You can rename any source group by double-clicking on its title. You will get a text field to enter a new name for this group. Confirm with "enter".

Collapse Or Expand A Source Group
The little triangle on the left of each source group let this group collapse. This way all the containing source will not be visible in your window anymore. If you want to expand a source group you can click on the triangle again.