*
Sports Graphics Pack​ comes bundled with mimoLive® Studio and mimoLive® Broadcast licenses.
If you have a mimoLive Non-Profit license, you can purchase this add-on through the mimoLive Online Shop
This specialized scorekeeper works for soccer. It can display the score, the time, overtime and penalty shoot-out situations.

Configuring The Data Source
The actual team information is coming from the current live Sports Game Data layer, which in turn gets its data from the Sports Team Data sources that are selected in the Sports Game Data layer itself.
Configuring The Appearance
There are a lot of parameters to adjust the look and animation of your design.
Background Color 1 and background Color 2 are for the boxes of the layout. You can choose whether the team emblems should be visible or not. The text can be adjusted in font, size and color.
For the penalty shootout there are three graphics that can be customised: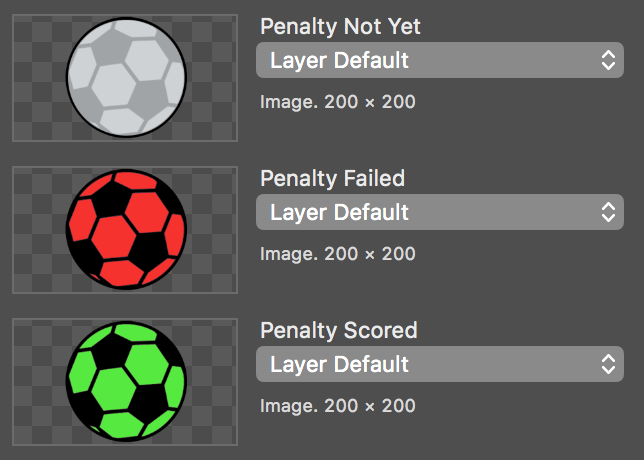 In the Geometry parameter group, you have the options to change the size of the boxes, the gap between the boxes and the positioning on the screen.
Controlling The Time And Score
Usually, a soccer game consists of two periods lasting 45 minutes. In some cases (e.g. for children) this time frame can be shorter and you need to adjust the Period Duration parameter accordingly. The Over Time Period Duration is also adjustable.
If the referee starts the game you need to start the game clock too. In soccer, the game will not be stopped however there will be additional game time at the end of each period. This additional time can be entered in the Additional Duration field once it got announced by the officials. After each period you need to reset the clock and switch to the next period. The displayed clock will automatically start at the correct time for that period.
The score gets controlled by the buttons in the Control section. Please consider using the Remote Control defined below.
Controlling The Penalty Shootout
When the overtime didn't help to find a winner then a Penalty Shootout will be performed.

For each attempt, you click on the buttons to either hit or miss the goal for home and guest separately. The result will be filled in the text fields below. Here you can correct a mistake too.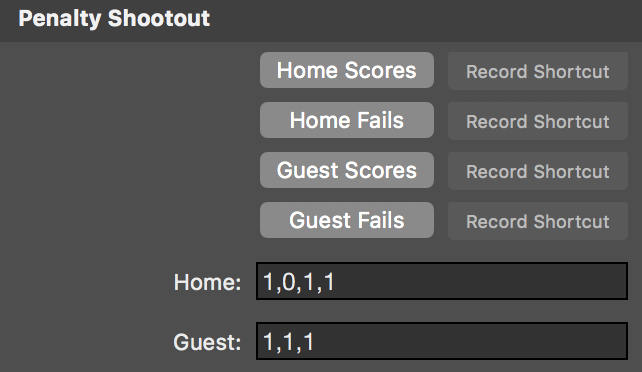 Using The Remote Control Surface
The Sports Soccer Run of Play layer has a rich predefined Remote Control Surface. It contains all the UI elements you will need to control the time and score. Because the task of following the game scores is very intensive it is highly recommended to put it on a remote device and let another person do this job besides controlling mimoLive.