You may have seen the live streams on YouTube, Facebook and LinkedIn that Achim and Oliver put together, showing people the latest cool stuff and answering questions. Here is what Oliver has in his studio to make this happen.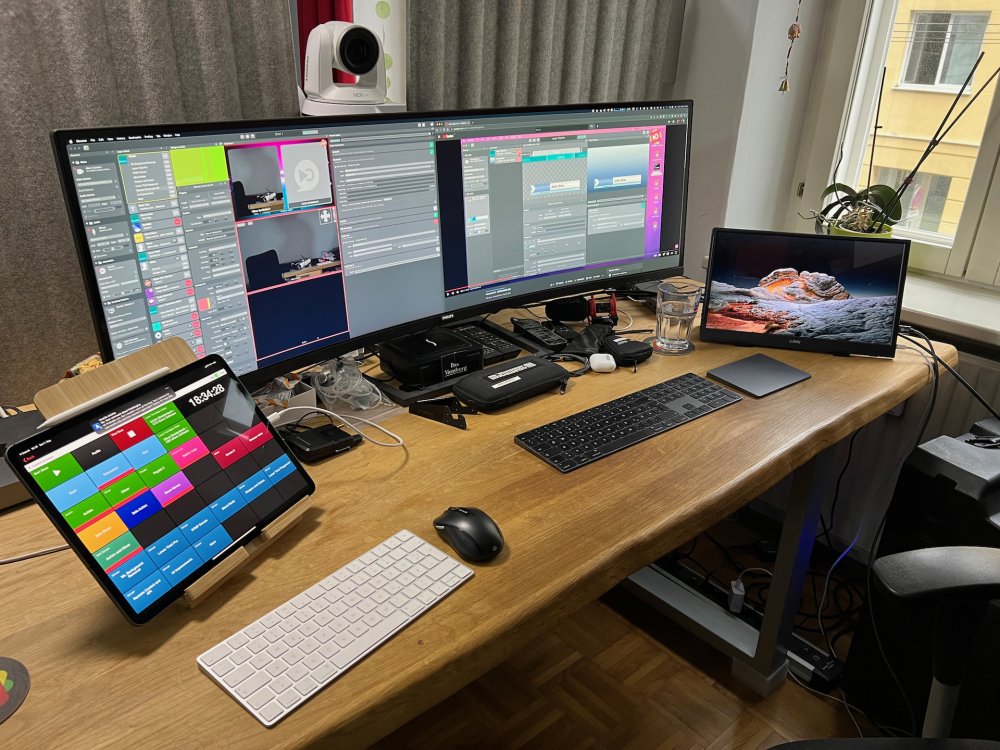 Streaming Computer
Mac mini M2, 12 Core CPU, 19 Core

GPU

, 32GB

RAM

, 1 TB

SSD

(actually to the side in the mimoLive Pro Live Broadcasting Box on the floor).
Ultrawide Monitor Phillips 499P9 (for lots of pixels).
Second Full HD Monitor (for Screen Capturing demos).
iPad for mimoLive Remote Control.
mimoLive (usually the latest beta for kicks).
Cameras via NDI®
Lumens VC-A50PN

PTZ

camera as main.
Mevo Start (for Overshoulder shot or showing things) using wired ethernet connector.
Networking
Ubiquiti Unifi PoE switch to connect cameras and supplying them with power. Just one cable each to the cameras!
Router Ubiquiti Unifi Security Gateway connected to cable modem from

ISP

.
Wireless network for iPad via Ubiquiti Unifi Wireless AP.
Microphone
Countryman E2 headset microphone.
Sennheiser

AVX

digital wireless system.
In-ear Monitor
N-ear 360 earpieces are pretty much invisible but offer good quality for voices.
Røde Wireless go used "in reverse". Mac output connected to the "microphone" transmitter and earphones plugged in the receiver.
Lighting
A total of 5

LED

panels mounted to the roof around the room provide diffuse light.
The background wall is painted with

RAL

Television Grey. This gives a nice, neutral background to help with white balance.
Rollei Lumen Stick

RGB

provides mood lighting on the background.