Syphon is an open source macOS technology that allows applications to share frames – full frame rate video or stills – with one another in realtime.

You can insert a Syphon Video Sender layer anywhere in your layer stack and transfer the image that has been composited by the layers below to another application.
This is useful for a number of cases:
Record a clean signal (e.g. without a Station Logo layer or other graphic overlays by placing it below those layers in the layer stack)
Divert video to a projector before adding branding
Send video to any of the many other Syphon client apps (e.g. the Syphon Recorder , even within mimoLive using the Syphon Video Receiver Source
Provide a confidence monitor for a performer before a greenscreen
To set it up, simply add a Syphon Video Sender layer to the position in the layer stack that you'd like to send to the external application.
In the Syphon Client app, a Syphon Server will appear with a certain name.
Giving the Syphon Server a Name
If you happen to have multiple Syphon Servers running it is helpful to give each Syphon Server a meaningful name. You can setup a name in the layers settings:

Using Syphon to Record a Clean Signal
One use case of the Syphon Sender layer is to record a clean signal. You might want to record a signal that does not contain any overlays or information that is only relevant to live stream viewers or the live audience.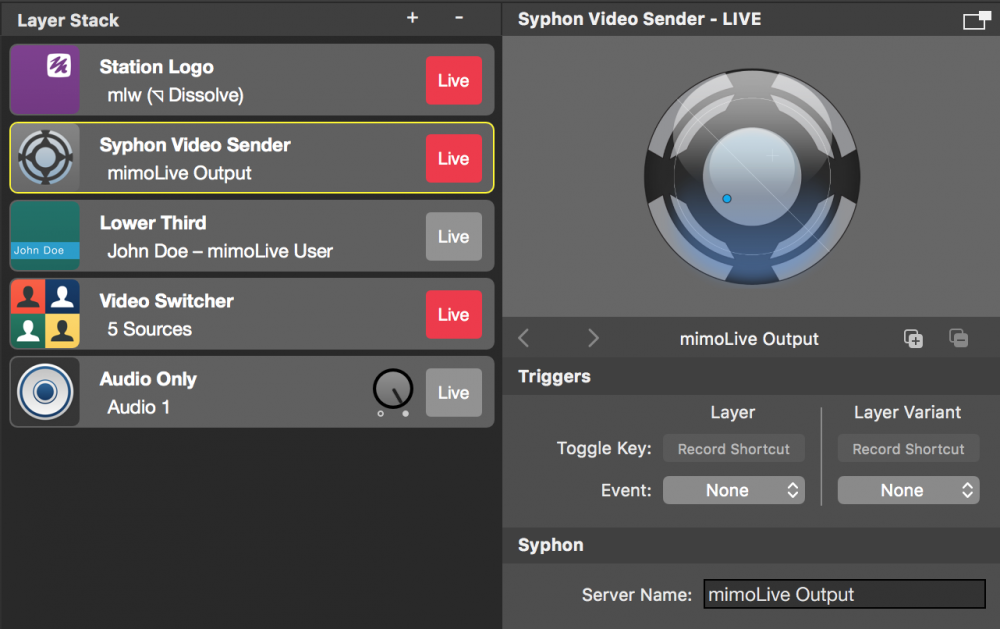 To do this:
Use the Syphon Sender layer in your layer stack at the appropriate level.
Open a second mimoLive document.
Set up the Syphon Source, place it in a layer and record this.
*
Syphon only transmits the video frames but not the audio