The Motion-JPEG source allows the use of many network cameras with mimoLive.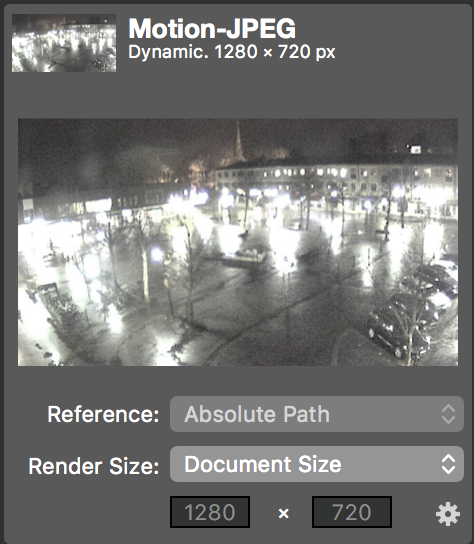 Render Size
By default, even if the source has different dimensions, the Motion-JPEG is rendered in to the Document Size.
You can change this to a custom size by choosing "Custom…" from the "Render Size" popup and entering the desired dimensions in the text fields below.
Settings
Click on the cogwheel in the bottom right corner to bring up the Settings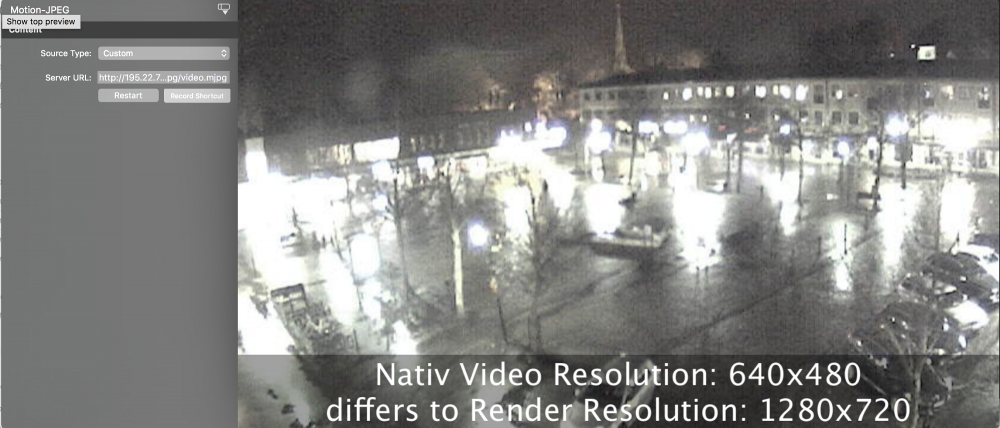 A Motion-

JPEG

source is accessed via http and "Server

URL

" contains the address of the Motion-

JPEG

stream in the camera.
Refer to the documentation of your camera to find the proper Server

URL

.
If you have an Axis Network Camera, you can choose "Axis" from the Source Type menu and just enter the IP address of the camera instead of the complete Server

URL

.
Restart reloads the Motion-

JPEG

stream.
The live preview has an overlay that displays the native video resolution of the Motion-

JPEG

stream and alerts you if there is a difference to the Render Resolution you've set up. Normally, this is just for information and explains why there might be a difference in video quality.
Audio
Motion-JPEG doesn't include Audio.