❗
This source has been discontinued with mimoLive 6. Please use the FFmpeg source instead.
Installing FFmpeg and creating new FFmpeg Sources
If your document contains one or more "IP Camera (RTSP)" source, you'll have to replace them with FFmpeg sources.
1. FFmpeg is a free open source project you need to install. Please refer to the FFmpeg source documentation on how to install FFmpeg
2. Create an FFmpeg source in mimoLive. Please read FFmpeg RTSP documentation on how to configure the source for RTSP.
Replacing the IP Camera source
After creating the new source, reselect it in all layers that you've previously used the "IP Camera (RTSP)" source.
In order to find all the places that the original IP Camera source was used you can try to delete it from the Source Repository. Then you will get a list of places to exchange the source with your new FFmpeg source.
1. Select the old IP Camera Source in the Source Repository.
2. Click the "-" button in the upper right corner of the Source Repository's list. Don't worry it will only get deleted immediately if it's not in use anyways.
3. If the IP Camera source is used somewhere you will get a list with all the places the IP Camera source is still in use: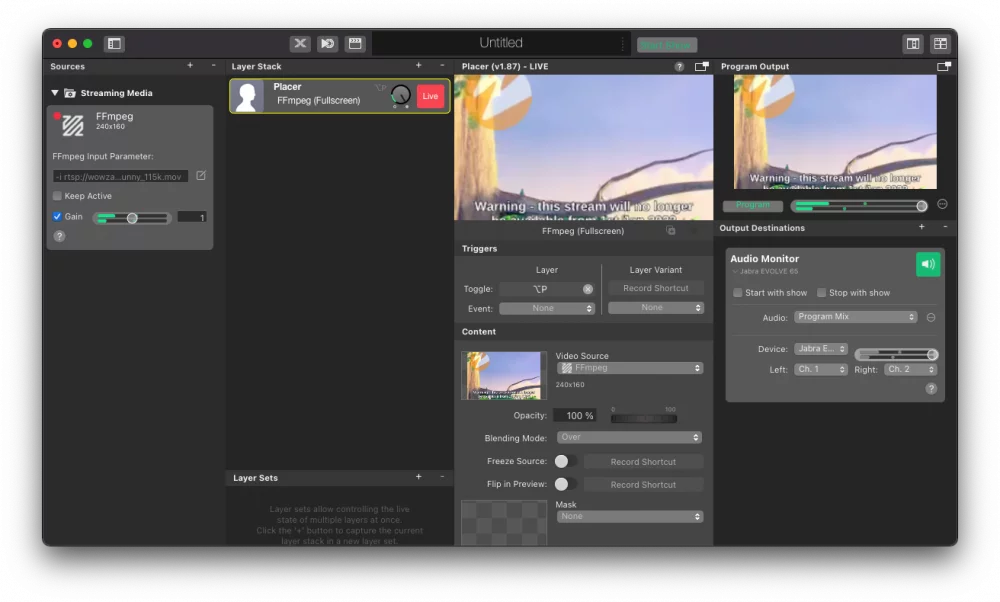 4. Click "Cancel" in order to keep the IP Camera source still around in order to be able to check if you have replaced it in all places.
5. Find those places and replace the IP Camera source with the new FFmpeg source.
6. Repeat this process from step 1 to see if you found all places. Finally the IP Camera source gets deleted if no places are found anymore.